Inside look at the $6,000 bonus included in Earnable
Hi, Ramit here. I want to give you a sneak peek inside Earnable, the ONLY business course proven over 15+ years, 50+ industries and 42,000+ paying customers.
In 2020, I hosted three invite-only workshops. These were intimate, online events designed to rapidly uplevel and accelerate your business. Each was laser-focused on a powerful lever for growing your income — even if you're just getting started.
These are the workshops: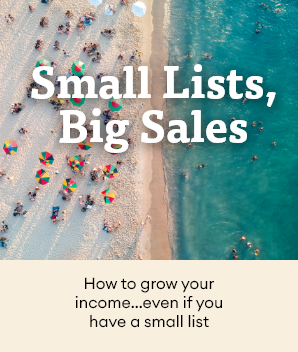 A seat in just one of these workshops cost $2,000.
To attend all three would have cost you $6,000.
When you join Earnable, you'll get instant access to the full recordings of all THREE live workshops. My gift to you.
This is like joining one program and getting 3 more for free.
Today, I want to show you a sneak peek of one of these workshops.
One of my favorite parts of the workshops was doing a live sales call makeover with one of the attendees, my student Tricia Bolender. It's one thing to read about selling, and it's another thing to listen in on a real sales call and break down what is and isn't working. That's magic. And that's exactly what we did.
The following three videos are just a piece of the full Sales Call Makeover included in the Authentic Sales workshop recordings.
In the first excerpt, you'll learn how to use emotional keywords to get your prospect to want to open up. A simple tweak that can radically improve your sales — in person or in print…
In the next excerpt, you'll learn how to connect deeply with your prospect and authentically offer your product. You can sell your product without being sleazy. Check it out…
In this excerpt, you'll learn how to close the sale — and make price a mere triviality. Here's how to state your price confidently and make the sale…
Get the full recordings from ALL THREE workshops — free when you join Earnable
Here's a more detailed look at what you'll learn in these workshop recordings (all yours for free, when you join Earnable)…
Exactly how I sell high-ticket products on Instagram — including a campaign that earned over $120,000 while I was on vacation. I'll break down the actual campaign, piece by piece.
Get access to my entire Instagram system (how I select images, write captions, plan out content while running a 7-figure biz, and lots more).
DMs revealed! How Instagram psychology works.
Discover how to grow your income on Instagram…even if you don't have a ton of followers.
Sales Call Makeover: WATCH me critique a student's sales call, in detail
4 things you must do in every authentic sales call to build rapport, earn trust, and make the sale
Exactly how to respond to "That's too expensive" — and other common sales objections
How to decode your prospects' questions so you can provide an authentic response and increase your sales call close rate
The single biggest mistake people make on sales calls — and how to avoid it
1 sale, 4 ways: Watch how I sell the SAME product in email, Instagram, webinar, and DM
Finding your sales funnel's "Big Idea" that makes buying your product a no-brainer
How a simple Instagram story about my mom earned $6,773 in revenue
Inside the exact Earnable email funnel that earned $1.4M in 3 weeks
The 5 types of emails you need to have in every successful sales funnel
How to translate customer feedback into an offer that attracts buyers
How to go from a $500 offer to a $5000 offer
The secret to charging 9X more for the same service
4 keys to deciding on price for your offer
Behind the scenes of how we used customer feedback to create a $1M course
A cut-and-paste survey for getting your customers to tell YOU what they want
How to blow your readers' minds and make them love you — and want to buy from you
8 elements of an "instant sales" email
The word-for-word email that sold 10 spots to a $2K-per-person event — on the spot
The IWT sales team's internal DO's and DON'Ts for writing compelling sales bullets
How an email about my shoes earned me $15K
Case Study: How Thalia made $9,000 from a list of 80 people — DURING a pandemic (including the exact emails she used)
And this is just in the free bonus workshops.
Earnable breaks down the hidden steps behind starting a business: finding an idea, creating an irresistible offer, making a sale, and many more. It's all laid out, step by step, in Earnable.
Even if you're a beginner with no idea, no experience, no website — Earnable can help you start a business.
What you get when you join Earnable:
Comprehensive PLAYBOOKS detailing everything you need to start and grow a business, step by step. All the exact strategies, frameworks, hands-on tactics, real-world examples, mindsets, done-for-you templates, benchmarks, and hard-won breakthroughs to start and grow your own business.
A supportive, vibrant COMMUNITY of fellow business owners you can turn to for answers, feedback, and encouragement. Get answers from the community in minutes.
White-glove SUPPORT to help you get the most out of Earnable. Our support staff is on hand in case you need anything.
With Earnable, you get ALL of this, protected by a 60-day, 100% money-back guarantee. Nothing else comes close.
"One video [from Ramit] just by itself was worth the entire investment for me. Working from home used to feel like a pipe dream. This course helped me go from earning basically nothing to 2 to 3k a month very quickly. Now I earn exponentially more than that using these same principles I learned from Ramit."
RACHEL NORMAN
A MOTHER FAR FROM HOME
"Making money doing something I love is great, but something that's really enriched my life is seeing the impact my work has had on real people."
PETER NGUYEN
THE ESSENTIAL MAN
"In 9 months, since starting my business, I've made over $35,000 while working from home and/or traveling the world. I work under my own hours and choose the clients I want to work with. I am not afraid where the money will come from. I can work from anywhere, and money keeps coming in. I am my own boss, I don't answer to anyone but myself and I work under my own terms."
MIRNA BACUN
MIRNABACUN.COM