Listen up: your credit card interest rate doesn't matter. I've gotten some heat for this idea, but I don't care. I'm tired of people bragging about their low credit card interest rate. Here's exactly why it's not important if your credit card interest rate is 5% or 80%.
What is a credit card's "interest rate" anyway?
A credit card basically gives you a short loan for the month. If you pay it off completely during that monthly period, you don't pay for the loan–it's an interest-free loan.
Pretty useful, right? That's why I've described credit cards before as "a delightful gift from heaven".
But if you don't pay off the loan in its entirety — let's say you spend $1,000 on your credit card but can only pay off $500 that month — then you have a balance on your card.
Your credit card balance is what the interest is charged on; typically, it's somewhere around 20%. In this case, you'd be charged $8.33 that month ($500 balance * 20% interest) / (12 months).
Why I don't care if my credit card interest rate is 5% or 80%
It's simple: I never carry a balance on my credit card — and neither should you. When it comes to making purchaes, if can't pay it off at the end of the month, I don't buy it.
I'm not going to belabor the point because, if you're reading this, you clearly care about your money. But you would be shocked how many people I talk to that charge purchases to their credit card without knowing how much they'll actually pay for it. So let's take a look…
The danger of credit card minimum payments
Let's say you have a $10,000 balance on your credit card and you pay the minimum amount, which is around 2.5% every month. How much will it actually cost you? The answer is shocking. Get ready!
If you only paid the minimum on your $10,000 balance, it would take you 452 months (over 8 years!) and cost you over $19,000 in interest alone.
In other words, you'd pay around $30,000 for a $10,000 balance.
That's if you just pay the minimum monthly payment. How about if you pay the same amount every month so that you pay down the balance faster over time?
Let's take the same $10,000 balance and pay $250 off every month.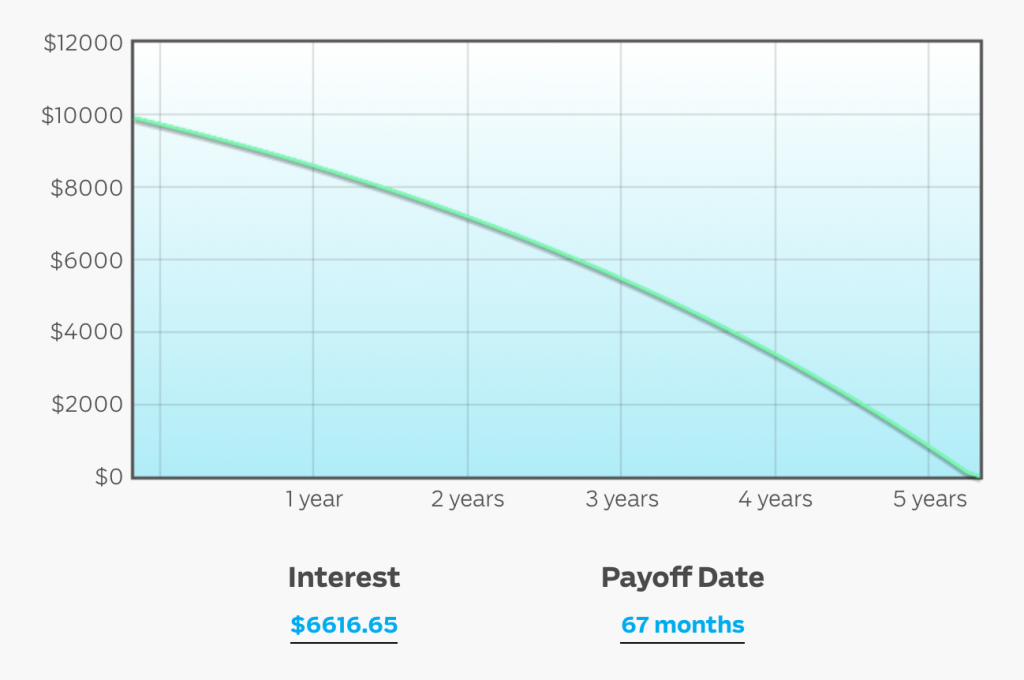 It will cost you over $6,000 in interest and take you 67 months to pay off the balance. Even if you don't buy another thing in that time!
This is why credit card companies are so incredibly profitable, especially with young people who don't know any better.
The point is pretty obvious:
Don't carry a balance (if you do, pay it off as quickly as you can).
Pay the maximum every time.
If you can't pay off a purchase by the end of the month, don't buy it.
"But Ramit," people say, "what about homes and college and cars? How can I pay that off in one month?" Yes, true, those very expensive purchases necessitate some kind of longer-term loan. But not with your credit card.
So when I hear people excited about their introductory interest rate ("It's 0% for 6 months!!"), I'm not really impressed. As long as you pay your balance in full every month, your credit card interest rate is meaningless.
Do this next: try the Credit Card Payment Calculator
If you have credit card debt — even if you aren't sure exactly how much you have — we can help.
Try our new Credit Card Payment Calculator to visualize exactly how much you owe — and more importantly — how 1 or 2 Big Wins can radically accelerate your debt payoff… plus the exact steps you can take right now.
Here's to the first step in a Rich Life.
Try the Credit Card Payment Calculator now »
Bonus: Get my best credit card tips
You can now get a full chapter from my New York Times bestselling book, I Will Teach You To Be Rich, on optimizing your credit cards for free.
It'll help you tap into credit card perks, max out your rewards, and beat the credit card companies at their own game.
I want you to have the tools and word-for-word scripts to fight back against the huge credit card companies. To download it free now, enter your name and email below.
Get a full chapter of my New York Times bestselling book for free