This is Tip #6 of the Save $1,000 in 30 Days Challenge
Today is one of my favorite tips: To take the money you're saving on gas and automatically hedge against any future increase in fuel prices.
The term "
fuel hedging
" refers to airline companies' tendency to try to protect themselves by estimating the price of jet fuel and locking in prices to protect themselves if prices go way up.
The world's best airline in fuel hedging is Southwest Airlines
:
"Using some simple and some complex investment strategies, Southwest has for a decade locked in the prices it pays for large amounts of jet fuel months and even years ahead of time. Its success at that has protected it from run-ups in crude oil prices and dramatically cut its fuel expenses. Since 1998, it has saved $3.5 billion over what it would have spent if it had paid the industry's average price for jet fuel. That's equal to about 83% of the company's profits over the last 9½ years."
We can use a similar technique for our own personal finances — and my favorite part is, you can apply this to anything where the prices is variable. Here's how to do it.
How to use hedging for your personal finances
When gas prices were at their highest in San Francisco, I was paying about $4.60/gallon, which was costing me about $60/week. But now, with a combination of lower gas prices and working at home once a week, I'm saving about $15/week off the peak.
It's really easy to ignore that and let the money stay in your checking account, where it will be inevitably spent on something useless. Instead, because gas prices have dropped, all of us are saving money compared to a few months ago. Now, you can create an automatic transfer of the money you're saving and put it in a "fuel hedge" account to protect you when prices go higher.
Here's how I do it.
1. I set up a high-interest ING savings account (now called Capital One 360), which lets me set up automatic transfers and create sub-accounts within my savings account. I use these sub-accounts for anything major I'm saving for (including a wedding, even though I'm not engaged — see why).
To set up a sub-account, log into your account >> Open an account >> Orange Savings Account >> Orange Savings Account (from the drop-down). Create the nickname, etc, and you're done.
2. I know I'm saving about $15/week, so I transfer that amount to my fuel hedge account.
3. If gas prices go up, you'll have this money saved to use to hedge against the new higher gas prices. It will also give you time to either cut your costs or earn more to account for the higher gas prices.
4. I set a calendar reminder every 3 months to re-evaluate the price of gas and adjust my weekly savings amount.
The reason I love this is you can apply it to anything you buy that gets more or less expensive. If you pay $100/month for heat in the winter and $20/month in the summer, can you pretend that you're still paying $100/month in every month of the year and save $80/month during the summer months? Give it a shot — there's a lot to be done with this tip.
* * *
Tools I use
I use a
high-interest ING savings account
to manage my savings and sub-savings accounts. It's free to open, high-interest, and they don't send me a bunch of crappy junk mail. It just works.
I also use Mint to track my spending and get averages for my spending.
I use Google Calendar to set reminders for myself in the future.
Total savings: $20 to $120 per month
* * *
Last thing to do
1. Leave a comment on this post describing how much you're saving with this tip. Each day, I'll ask you to post how much you've saved cumulatively. Use this as a way to track your own progress (it will also encourage others to join)
2. Want to submit your own savings tip?
Submit a money tip here
.
If you found this post helpful you'll probably like my new Ultimate Guide to Personal Finance. This is an excellent place to learn more simple ways to improve your personal finance and money management.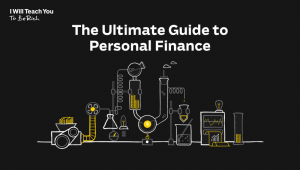 Do you know your actual earning potential?
Get started with the Earning Potential quiz. Get a custom report based on your unique strengths, and discover how to start making extra money — in as little as an hour.