This is Tip #26 of of the Save $1,000 in 30 Days Challenge.
Today's tip is to get rid of one service provider you're currently using (a housecleaner, dog groomer, etc.) and learn to do it yourself instead. This is a small step to take that can amount to huge savings over the long run. And yes, it's targeted at people who may be using a cleaning lady, gardener, etc. If you're not, there are plenty of other tips for you.
This tip was submitted by Kris from Franklin Park, NJ who writes:
Stop using one service vendor, and come up with a plan to do it yourself. We fired the cleaning lady, and made it a family project to get the job done ourselves. It takes the family only 2 hours collectively. Even though the kids do very little, we got them involved and and we make it a contest with the kids to see who can vacuum faster. This same trick might work with the dry cleaner, dog groomer and probably many more.
The average American household spends $10,000 on local services like home improvement, entertainment and personal care.
To apply this tip, think about all of the things you're paying someone else to do that you might be able to do on your own. For example, instead of paying to get your oil changed, learn some auto maintenance and do it yourself. Or:
Cut your own hair or do your own nails.
Cook your own meals.
Get rid of your personal trainer or gym membership altogether – run or bike instead.
By the way, as a trick to make this actually work, I'd suggest just picking one provider and cutting costs deeply, rather than cutting costs 10% across a few different providers. This can be either quitting cold-turkey, or extending the time between visits.
Total Saved: $20-$100 / month.
* * *
Last thing to do
1. Leave a comment on this post describing how much you're saving with this tip and any unusual techniques you use to make this tip work.
2. Want to submit your own savings tip? Submit a money tip here. If I use your tip, I'll send you something cool.
If you found this post helpful you'll probably like my new Ultimate Guide to Personal Finance. This is an excellent place to learn more simple ways to improve your personal finance and money management.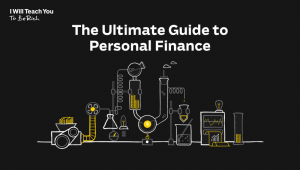 Do you know your actual earning potential?
Get started with the Earning Potential quiz. Get a custom report based on your unique strengths, and discover how to start making extra money — in as little as an hour.