This is tip #11 of the Save $1,000 in 30 Days Challenge.
Today's tip is to never pay retail prices for clothes again using some sites you've heard of, and a bunch of sites I bet you haven't.
How much do you spend per year on clothes? Think carefully about that question — if you buy a $300 coat, for example, you're spending a minimum of $25/month on clothes. I don't even buy clothes that often and I easily spent over $1,000 on clothes last year.
Now, if you're a mom or on a strict budget, saving money on clothes is nothing new: You've already been checking price tags carefully. But many of my friends buy what they want, when they want it. While these tips are applicable to everyone, they get the most mileage if you're buying expensive clothes. What you'll see below is that you can actually get same clothes you buy at Macy's — or better clothes — for a lower price.
Let's watch Paul Singh from Results Junkies talk about how he gets custom-made shirts (which would normally cost $200+) for $30:
(He referred to CTshirts in the video. Sign up for their free newsletter, then wait a couple weeks until they email you about their monthly clearance specials.)
There are also lots of other places where you can save money on clothes.
Retail stores: Because I'm Indian, I love Ross and TJ Maxx. I just bought a Ralph Lauren coat at 50% off the other day. Even Target can have cool clothes. The funny thing is, as young people, we think shopping there is "weird" because, let's face it, it's mostly moms who shop there, and who wants to be caught buying a pair of pants at Target? This actually mirrors personal finance: Spend money on the things you love, but cut costs mercilessly on the things you don't care about. For example, if you love a blazer at Macy's, save up for it and buy it guilt-free…but cut costs mercilessly on pants if you don't really care what they look like. You have to prioritize. Plus, for people who think it's "weird" to shop at TJ Maxx: I can get over that weirdness when I'm saving $200 on clothes each time I go in there.
Buying abroad: Recently, I detailed how I saved $700 buy buying a suit and eyeglasses in India. Good news: Instead of walking the streets of Rajouri Garden in Delhi, you can do all of those things from your computer. Zenni Optical offers eyeglasses at $25 (and they're not the only one — search for "cheap eyeglasses"). You can get custom suits made for $200, and a local tailor in your neighborhood will make the final adjustments (search "cheap custom suits").
Buy clothes online: I know, I know, people have been telling me to buy clothes online for years, but I always have this nagging feeling that things will never fit. But when I saw the prices, I was saving 75% off buying it at stores — making it worth the experimentation. Plus, every retailer understands your hesitation to buy clothes online, so they make it insanely easy to return clothes. I like eBay and Overstock.com. Also try Shop It To Me, which lets you enter your size/style and you'll get targeted emails about exactly the clothes you're looking for. Frankly, I'd recommend trying buying clothes online once. Pick a brand whose size you know, and since returns are free, it's literally no money out of your pocket if you don't like it. Note: I have invites available for the invite-only site Gilt.com, which gives you access to high-end retailers (John Varvatos, Ted Baker, Chip & Pepper, etc) for steep discounts (i.e., hundreds of dollars off).
Buying something expensive? Use the Savings Goal strategy. Finally, there's one bonus tip for buying something nice: If I see an expensive coat or jacket I want, I can either drop the cash right then, or go home, decide if I really want it, and set up a savings plan. You can probably guess what I do most of the time. Here's how:
Remember how I wrote about my sub-savings accounts?
Let's say I want to buy a blazer that costs $200. I set up a "Clothing" sub-savings account and set up an automatic transfer of $100 each month into it and set up a calendar reminder to let me know when I've saved $200. This does two things: First, it forces me to save for any large purchase. Second, by the time the second month comes around, I sometimes realize I didn't really need that thing anyway. You can use the Savings Goal strategy for any large purchase.
Be careful about buying clothes. People love to rationalize that they're "investing" in their clothes for the long term, which is a complete lie because they keep buying stuff every year. Only buy something new when you get rid of something old. Pay for quality, but hold it (and wear it) for a long time. Cut costs on stuff that nobody sees, like your headbands or socks. And ask yourself if dressing in the newest Kenneth Cole shirt or Prada bag really gets you to your goals.
Total saved: $50 to $500
* * *
Last thing to do
Leave a comment on this post describing how much you're saving with this tip and any unusual techniques you use to make this tip work.
If you found this post helpful you'll probably like my new Ultimate Guide to Personal Finance. This is an excellent place to learn more simple ways to improve your personal finance and money management.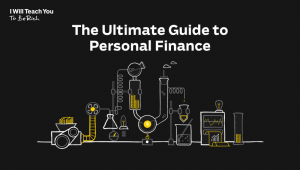 Do you know your earning potential?
Take my earning potential quiz and get a custom report based on your unique strengths, and discover how to start making extra money — in as little as an hour.