Today is another post in the Money Diaries series, which is based off New York Magazine's Sex Diaries. We've collected stories from real people about their spending habits over seven days, anonymized them, and posted them here.
Today's post is by a 27-year-old woman who lives in San Francisco without a car, and commutes by train to work. She tracks her spending extremely well. But does she ignore the Big Wins to focus on smaller savings?
* * *
Day 1
7:30 a.m.: Saturday. Wake up around the time I get up for work. A little annoyed but I can't fall back asleep so I get up and get coffee at the specialty coffee shop down the street. They are a little expensive, but really good so I try to limit myself to one a week. Spent $3. On my way out I pick up a check at the front desk. I rent out my parking space and it's the beginning of the month. Gain $250.
10:20 a.m.: Resisted the urge to buy breakfast while I was out, thinking I could whip up something at home. I have bacon but don't have eggs. I don't have anything to make for lunch next week either…so I decide it's time to go grocery shopping. I get some ham, eggs and hotdogs and the rest is all frozen pre-made food, which I know is bad but I promise myself I will try to eat some fruits and veg this week as well. $2 for the bus, $47.21 at Trader Joe's.
12:30 p.m.: No plans today so I'm just staying home and cleaning up my apartment and other tasks that I've put off all week. I get on my computer and check email and various blogs, and then the I tally up what I've spent this week and enter it into a Google spreadsheet. I track every penny I spend. It sounds a bit weird to most people but I really rather enjoy it and finding out how much I spend on stuff. I usually try to enter it as soon as I get to a computer, but sometimes receipts just pile up. For purchases without a receipt I make a note on my iphone. It's really just informational for me since I make enough now to cover anything I could want to buy, but I started doing it when I was a poor grad student to make sure I wasn't spending more than I brought home. Since the beginning of the month I add up my expenses for last month. Without counting rent, I've spent a total of $1967.30 for the month of September and it breaks down as follows: $117.75 for transportation; $235 for health care; $140.29 eating out; $153.18 for alcohol/wine; $757.83 for household things (including a couch off craigslist for $680); $12.05 for toiletries; $134.76 for electronics (bought a GPS); $34.97 in entertainment (tickets to museums, movies, shows etc; Netflix subscription) and $32.94 in misc stuff. Some of the things I split with my boyfriend, like the couch and the Netflix subscription. For those curious, my rent is $2,020 a month for a one-bedroom in San Francisco which I split with my boyfriend. I also look up how much I've spent on my phone minutes. I don't talk on the phone a lot so I'm on a T-mobile pay-as-you-go plan on an jailbroken iPhone. September's phone minutes cost $14.03. I get data from wherever there is open wifi access. I get the mail and Wired mag has sent me yet another renewal notice. It's actually close to renewal time so I decide to finally do it. $20 for a 2-year subscription.
2 p.m.: I get a couple of emails from various financial intuitions about successful money transfers. I schedule nominal amounts (~$150) of money to be pulled out of my checking to my savings and an index fund after every paycheck, just so I'm saving and investing but I don't have to think about it. The start of a new month is always an interesting time for my finances, but now everything is in order and I can get off the computer. Phew!
4 p.m.: For the rest of the day I putter around the apartment while streaming Netflix. Total spent today: $72.21. Total gained: $250
Day 2
9:30 a.m.: Sunday. Get up, shower and make myself a nice breakfast of eggs, ham and toast and a cup of Earl Grey tea. I park myself in front of the computer while I eat and read the news. Unemployment is at 9.8% now. Thankfully we both still have our jobs. I chat with boyfriend on skype. He's out of the country and coming back on Wednesday.
12:20 p.m.: I take the bus to meet up a couple of friends for snacks and drinks. We're going to the premiere of an indie film that we all worked on, and then having dinner afterwards. Bus fare there $2, Snack and drinks pre-show $25, Tacos afterwards $14. I bought 2 tickets for the event last week for $20, so I'm not sure if I'm supposed to count it for today.
9:15 p.m.: Bus Fare Home: $2. Total spent today: $43 (doesn't include the tickets I paid for last week.)
Day 3
7:30 a.m.: Monday. Get up, get ready for work and make a cup of tea. I walk 5 minutes to the train station, grab a free newspaper and enjoy the ride. I have a monthly pass that is taken out of my pay pre-tax. A free shuttle connects the train station to the building where I work. Recent layoffs at work has increased my workload a bit, so I have a busy day ahead.
11:15 a.m.: Get bored with work so I decide to check my bank account for suspicious activity. Everything looks normal, as it does most of the time. I have about $1,750 in my checking account and $36 in credit card charges. The $1,750 is my budget for this month (not including rent), which equals about one paycheck. Every month I "zero out" my checking account by moving any money left to an ING savings account and only spend what I earn that month. It sounds nutty but that's how I keep a budget. If I spend over that amount I have to really think if it is worth the hassle of pulling it back out of my ING account. I've tracked my spending for long enough to know that's more than enough for most months – so I tend to spend my money freely.
12 a.m.: Lunch time! I have some pre-packaged Indian food from my Trader Joe's run on Saturday.
4 p.m.: Around this time I start to zone out and think about dinner. I poke around epicurious for delicious looking recipes. Something baked would be nice….
6:44 p.m.: I arrive back in the city. I was interrupted with work while on my recipe search so I won't be cooking tonight. I come home and bake a goat cheese pizza I got on Saturday and pour myself a glass of wine.
7 p.m.: I eat in front of the TV, putting in the Netflix DVD I got in the mail today and relax for the rest of the evening. Total spent today: $0
Day 4
7:30 a.m.: Tuesday. Same routine as yesterday. My weekdays pretty much all look the same, but this week is interesting because I'm taking Wednesday to Friday off!
9 a.m.: UGH. Arrive at work. Since I'm gone the rest of the week I have a bunch of meetings crammed into today, plus there is work I need to hand off before I run off on vacation.
11:40 a.m.: Coworker's farewell lunch. A very delicious $20.
5:50 p.m.: Train arrives back in the city. I decide to eat something fresh tonight so I go to the grocery store across the street from the train station. I pick up an Ahi tuna steak, some yogurt and a pineapple. I live so close to the grocery store that when I buy fresh stuff I only buy for one meal. Spent $10.30
6:15 p.m.: Come home, pour a glass of wine, and make some rice. I sear the tuna and enjoy my dinner in front of the TV. Snack on pineapple the rest of the evening.
8:36 p.m.: Get kind of bored and surf Target.com. There's a ring I've been eyeing but last time I checked it was sold out. OH WOW I CAN'T BELIEVE IT it's back in stock.You get free shipping if you spend $50, so I look around and find some shoes and sweater that is suitable for work. Total for my order is $67.86. Total Spent today: $98.16
Day 5
7:30 a.m.: Wednesday. OMG vacation! Why am I up? Stupid alarm clock… I stay in bed reading the news on my iPhone out of principle.
9 a.m.: Boyfriend's plane arrives around 1 p.m. I pace around and decide to go downtown to watch tourists. I get a latte at Starbucks ($2.90) and buy some eye cream at Sephora ($43.80), plus bus fare for $2
11:25 a.m.: Come back home and check plane status — estimated arrival is 20 minutes early. I log on to Zipcar and book a car. WTF! the car that's parked in my building is already booked! I guess I should have done it earlier….Instead, I book a car that's a block away. Current estimate for Zipcar charges is $28.74 for a 3 hour reservation. Boyfriend will expense that as part of his trip so I won't be paying for it.
1:30 p.m.: Pick up boyfriend at the airport. Since we don't have a car, often we decide to go shopping for heavy things when we get a Zipcar. We get a bag of rice and a case of my favorite wine plus some other groceries while we're at it. Total grocery: 169.06
5 p.m.: We unpack for a bit and then head down to happy hour at the sushi place down the street. 4 rolls, 3 cocktails and 1 beer later, we are out $45.22 Total Spent today: 262.98. A bit much for one day but that bag of rice and case of wine will last for a while.
Day 6
8 a.m.: Thursday. I make breakfast while boyfriend makes coffee. We both have the rest of the week off, which is nice.
12:30 p.m.: We decide to have a day of unpacking at home, but for lunch we make a trek to our favorite taco truck. Their burritos are huge so we split one ($7.50). The truck is halfway to Trader Joe's so we go check it out. We have plenty of food at home already so we didn't buy much – just some more ham for breakfast and some ground beef and chicken stock. Total $16.31 + $4 bus fare.
2 p.m.: My body lotion stopped pumping this morning so I take a knife and cut open the bottle. I can get another several weeks of lotion just digging out what's left on the bottom. Since I'm writing this diary I can imagine Ramit mocking my "frugal" habits while throwing a cup of pennies over his head – LOL. To each his own, I guess, but I don't get the attitude that I should be wasteful just because I can afford to be. I also reuse my ziplock bags depending on what was in it and save medium to large cottage cheese or yogurt containers, but that's another story for another day. I am a firm believer in the saying "waste not, want not." It wasn't until recently that I became this affluent (and by affluent I mean thoroughly middle class), and I'm not going to take it for granted. Total spent today: $27.81
Day 7
8:30 a.m.: Friday. I have to say, my ham breakfast is delicious.
11:30 a.m.: I feel like a shopping trip today so we take the car out to Ikea, Target and Petsmart. Zipcar for 3.5 hours ($33.54); Bridge Toll ($4); Target (clothes hangers and cleaning supplies – $4.68); Ikea (plant, cushion, pet toy and a soft serve – $21.83); Petsmart – Forty some odd dollars, but I have a $100 gift card from my credit card rewards.
3 p.m.: I check my email and PG&E has sent me a bill. $22.99 for last month that I pay right away.
5:15 p.m.: Happy hour! There's a place nearby that is doing 50c oysters and I love oysters. Total $38.00 for the oysters and drinks. Afterward, we take a walk up the Embarcadero (the waterfront) and watch tourists at Fisherman's Wharf.
9 p.m.: $4 bus fare back home. Total spent today: 129.04
In Sum
Total for the week: $633.20. It's a bit much for a typical week, but I was on vacation for a good chunk of it. Most of the spending was on food, either eating out or grocery and I also stocked up staples (as much as wine is a "staple"). It's still early in the month but I'm well within my budget so I should be fine the rest of the month. I am perfectly at ease with my spending this week.
* * *
My thoughts
I love that she rents out her parking space to earn $250/month. If you're interested in earning more, I'll be announcing something next month…sign up here to get details first.
I don't know how long she's been tracking her money, but she's skilled at managing costs and monitoring her spending.
She understands her own behavior and how to strategically apply barriers to control her behavior. Here's a good sign of someone who's expert at self-awareness: "If I spend over that amount I have to really think if it is worth the hassle of pulling it back out of my ING account. I've tracked my spending for long enough to know that's more than enough for most months – so I tend to spend my money freely."
This is a move right out of my parents' handbook: "My body lotion stopped pumping this morning so I take a knife and cut open the bottle." I laughed out loud. My parents add water to the shampoo bottles.
I'm a huge fan of how she takes vacation and enjoys it without guilt. That's Conscious Spending at its best.
Overall, I'm impressed with her self-awareness and control. This is someone who has a smooth financial system. Next steps include earning more (at work and on the side), investing more, double-checking her asset allocation, and planning for longer-term events. But these are natural and completely manageable from her current level.
* * *
If you found this post helpful you'll probably like my new Ultimate Guide to Personal Finance. This is an excellent place to learn more
simple ways to improve your personal finance and money management
.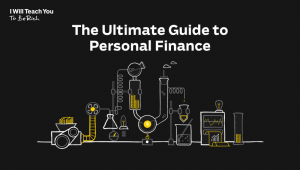 Do you know your actual earning potential?
Get started with the Earning Potential quiz. Get a custom report based on your unique strengths, and discover how to start making extra money — in as little as an hour.