Here's an interview I recently did about the Save $1,000 in 30 Days Challenge. I decided to ask you guys what questions you wanted me to answer, so I collected a ton of interesting questions from the Challenge email list and sent them to the interviewer.
Check out the 18-minute interview below!
RSS readers: Can't see the MP3 file? Check out the full interview page here.
Questions in the interview:
* Ramit, how many people are taking the $1000 challenge?
* What is the demographic of your blog readership AND what demographic (in terms of income) is your challenge aimed at? (Mrinalini Kamath, New York City)
* What is the most useless thing people try to do to save money (i.e., they think they will save money, but they instead lose money). Investing doesn't count. 🙂 (Aaron Thorne, St. Louis, MO)
* Once you've saved 1,000 what should you do with it? straight into savings? Into a CD? Cash under the pillow? (Mike Koehler, Oklahoma City)
* Why do you care if others get rich? (Chris R Rinehart, West Des Moines, IA)
* How do you respond to the level of criticism you have received in regards to participants saving money? Many are claiming to save significantly less than you have forecasted. While individual results may vary, do you feel your saving predictions are/were accurate? (Alex Furst, Columbus, OH)
* If you consider the number of people taking this challenge, the average amount they would have saved so far, and add that all together – how much money has been saved total since you started this challenge? I've saved $360, if that helps. (Troy Costlow, Chicago)
* You wrote about a couple of very useful web sites — BillShrink and a site called Stickk.
* In your day job, you're co-founder and VP of marketing for PBwiki – tell us a little bit about this venture.
* One last question: You want to get rich? you want to get famous? You want to get paid to give speeches? Get a book deal. Ramit, how did you get yours?
If you haven't already checked out the Save $1,000 in 30 Days Challenge tips, scroll down on this page to see them.
If you found this post helpful you'll probably like my new Ultimate Guide to Personal Finance. This is an excellent place to learn more simple ways to improve your personal finance and money management.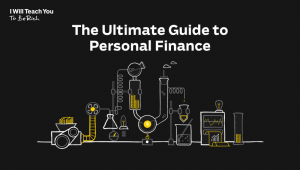 Do you know your actual earning potential?
Get started with the Earning Potential quiz. Get a custom report based on your unique strengths, and discover how to start making extra money — in as little as an hour.