* * *
My
Earn1k course
— to help you earn your first $1,000 on the side, and beyond — has been live for 3 weeks.
Instead of telling you how it's going, I thought I'd let my users do the talking.
What have you learned in Earn1k that you didn't know before? Please be SPECIFIC.
"Having too many ideas is not an acceptable excuse. Also, you don't need an original idea. Just do better than crappy people."

"I learned a better process of how to narrow down a niche by what questions to ask. Learning which areas I should devote more my time to (figuring out what is MOST essential for your business) was also a great lesson because I can sometimes get caught up on some of the non-essential things (i.e. go to networking events, get business cards, etc.)"

"-To start with a narrow niche focus and broaden if necessary. The point is to actually start doing things that matter.
-Ask for referrals. Ramit recommends "Referral Flood." Noah: Ask each client for three referrals, and "Who do you normally hear about this stuff from?"
-From Tim and Ramit: Don't rely on willpower. Develop habits to avoid having to think about every detail every time you encounter it. Form new habits to create new behavior."

"I thought that online surveys would work well for getting in the head of your market. I found that there is nothing better than meeting face to face with potential clients. The meetings are so dynamic that the information is so much richer and full of potential products and services that you would never be able to capture with a survey. Surveys have their role, but you can't design a survey to deliver this much essential information."

"Step away from the computer and GO TALK TO POTENTIAL CUSTOMERS."
What have you DONE after watching the Earn1k material? Please be specific: Include details about what ACTIONS you've taken.
"I have contacted three potential clients, one of who is very close to becoming a paying customer. I have adjusted my game plan, focused, found a niche that I think is the right size and scope, and learned a lot from my conversations with existing customers."

"1. Wrote up the 3 most important things to do for my business (price list – which i already have, contact 3 customers, contact 3 mentors).
2. setup a surveymonkey page for customers to fill out
3. Contacted 3 people from my target market. Meeting with two of them this weekend.
4. Also contacted so far 1 person who is in the same business I am interested in and seems to run it very well. Asked for 30-60 minutes time to meet and chat
4. Added my business info to local google information."

"The number one thing I've done is throw most of my planning out the window (swallowing my pride in the process) to start talking to people. I've volunteered with a non-profit and planned trips to talk with important figures. I put my website on hold. My interviews and calls are much more concise and market oriented ("what would you like to see?") instead of my previous questions ("blah blah blah…what do you think of my idea?"). Finally, I've done my best to get out of idea-land and make concrete moves. This means less reading/writing time and more email/phone/social time."

"After watching the videos, I keep the worksheet and pdf files of the lesson open on my laptop as I go through the material again. I also find myself going back to read the transcript the next day."

"1. Identified an additional service I could offer in my current freelance gig, and negotiated an increase in hours to do this work (grant writing: $500+ this month)
2. Talked with a colleague with a similar market who offers different services than I do, getting her feedback about what she saw the market needing that was not currently supplied.
3. Sent 3 emails to potential clients for coffee/lunch dates
4. Sent a survey out to participants in an event I recently facilitated"
What specific steps will you be taking this weekend to earn more on the side?
"I am replying Sunday afternoon. I have already had my call with Susan, and I gathered a lot not only from that, but from listening to the other people on the call. I will be sending Susan my email conversations with my prospects so she can give me advice on them. I've gotten the contact number I needed to proceed with my marketing strategy, and plan on calling that person (non-client) this evening."

"I will send out at least three emails to current students this weekend. On Tuesday I will be back at school and will actually speak to potential clients."

"1. Set up a meeting with my current freelance gig to get feedback / testimonials
2. Send 3 more emails to potential clients
3. Outline questions for potential client meetings
4. Do that extra work on grant writing that I negotiated!"

"Just had a great phone conversation with someone I contacted via email. Have another in-person meeting set up for next week. Will prepare some follow-up emails using the techniques/tips I learned in the Office Hours"
* * *
I'm so impressed with the caliber of Earn1k members.
Want to earn more money The Earn1k course is closed for now, but you can get on the Earn1k list to get notified next time it opens.
Want to save money? Check out my new Ultimate Guide to Personal Finance. This is an excellent place to learn more simple ways to improve your personal finance and money management.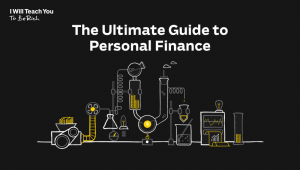 Do you know your actual earning potential?
Get started with the Earning Potential quiz. Get a custom report based on your unique strengths, and discover how to start making extra money — in as little as an hour.