Ed, 34, is a software engineer. He's married and lives in a big city. He's got a degree and a master's in computer science and has spent the last 8 years programming for defense companies. But, despite working up to 11 hour days and
earning more than $100,000 a year
, Ed still wanted a software engineer side hustle.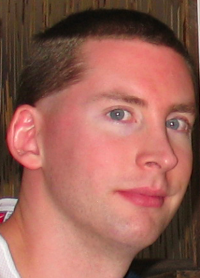 I'm highlighting Ed for people who write me saying, "Ramit, does your material work? I already earn a lot and I have NO free time." Yes. Yes, it does. This case study is not just for coders. It's for anyone that has a passion or a hobby, and wouldn't mind making an extra $2-3K per month — or like Ed landing a $5,300 contract within 3 weeks of starting my Earn1K course. Let's look at how Ed went from a "sustainable hobby" to a "profitable side project" in less than a month.
Learn what you should do with all that extra money you're going to be making on the side. Check out my
Ultimate Guide to Personal Finance
for tips you can implement TODAY.
How Ed made $5300 in 3 weeks with a software engineering side hustle
Ed considered himself an entrepreneur.
"I've been doing iOS development for the last 4 years. I had a side company with a daytime work partner. We've been selling apps through the app store – for like $2.99 or $9.99. We made maybe a couple of grand in sales, but then Apple takes their 30%, and we split it 50/50, and then taxes, so the bottom line wasn't much. I'm an Apple fanboy though, so at least I get to write off my iPad and iPhone as business expenses."
The app store is a pretty competitive place – so by a lot of measures Ed was already doing okay, but it's that same success that was holding him back.
"I had almost signed up for Earn1K in 2011. I did a bunch of the live webcasts Ramit put on, and I was like 'ehhh, I should be doing it.' But I didn't pull the trigger. I thought because I had a side business I knew enough to be dangerous. I guess I thought I didn't have to pay for the knowledge."
So Ed passed on E1K and continued developing apps. "We did one iPad app this company wanted to use for internal training. We made more money with that app in a five-week period than in an entire year of sales. That's when I realized there was a market for building to spec. But that sale kind of fell in our laps. It was lucky. And we priced it wrong. We did a fixed price, which means we lost our shirt in the hourly rate because it ended up taking double. My partner is pretty busy now — he's got two kids and is doing an MBA. So I started thinking about doing this on my own." That sounded like a good idea, but Ed realized he had a problem.
"I live a pretty structured life. Not like crazy, but I make yearly goals and I try and review them every quarter. So last year one of my goals was to make $20,000 with my company — and I didn't even come close. I was looking at it all wrong, I was thinking 'how am I going to get a paycheck?' instead of 'what are the steps to starting a side business that can earn a couple thousand a month?'"
When I reopened Earn1K, Ed signed up. Three weeks later, Ed learned my Craigslist RSS technique and landed his first $5,300 client software engineer side hustle, the very next day.
If you're worried about your personal finances, you can improve them without even leaving your couch. Check out my
Ultimate Guide to Personal Finance
for tips you can implement TODAY.
"$5,300…I was amazed"
"So the whole course was great, but the one thing that got the sale — and I never would have thought this in a million years — was using Craigslist to find work."
A lot of people don't know how to use Craigslist. They waste dozens of hours clicking through ads and sending off emails, then give up when they get exactly zero results. But it is a marketplace, and if you know how to use it, there are good clients that will pay you for your service. The key is getting SPECIFIC. I teach exactly how to do this in Earn1K.
"The next day I got a sale. The ad popped up, I emailed them with the script from the course. They emailed me right back, 'Hey, you want to Skype? You look like you are a good match.' Within a couple of days, we had worked out the details and pricing, $5,300. I was amazed. I always figured Craigslist was for shady deals, or people selling used things out of their garage but these guys are great to work with. I told them, $50 an hour for this project, then we'll increase the rate after we finish the demo product."
Ed didn't just use my scripts to kickstart his side business. "I used a ton of Earn1K content. I think I'm a pretty good writer, but Ramit's email scripts were much more polished. And the psychology of pricing helped me get what I know I deserve for the project without scaring them away." Now Ed understands the difference between setting a GOAL to earn more and ACTUALLY taking the steps to make it happen. "I was like, holy shit I have clients!" What advice does Ed have for engineers who want to start earning money on the side?
"You can be a great engineer but suck at working with people. Most engineers are kind of nerdy – we just want to sit alone in a corner, and code, and be left alone. But just having the chops for tech skills doesn't cut it. It's all the ancillary skills like being able to write well, communicate well, the course shows you all that. It's what will set you aside from the average person."
Do you know your earning potential?
Take my earning potential quiz and get a custom report based on your unique strengths, and discover how to start making extra money — in as little as an hour.